What is Crane Scale?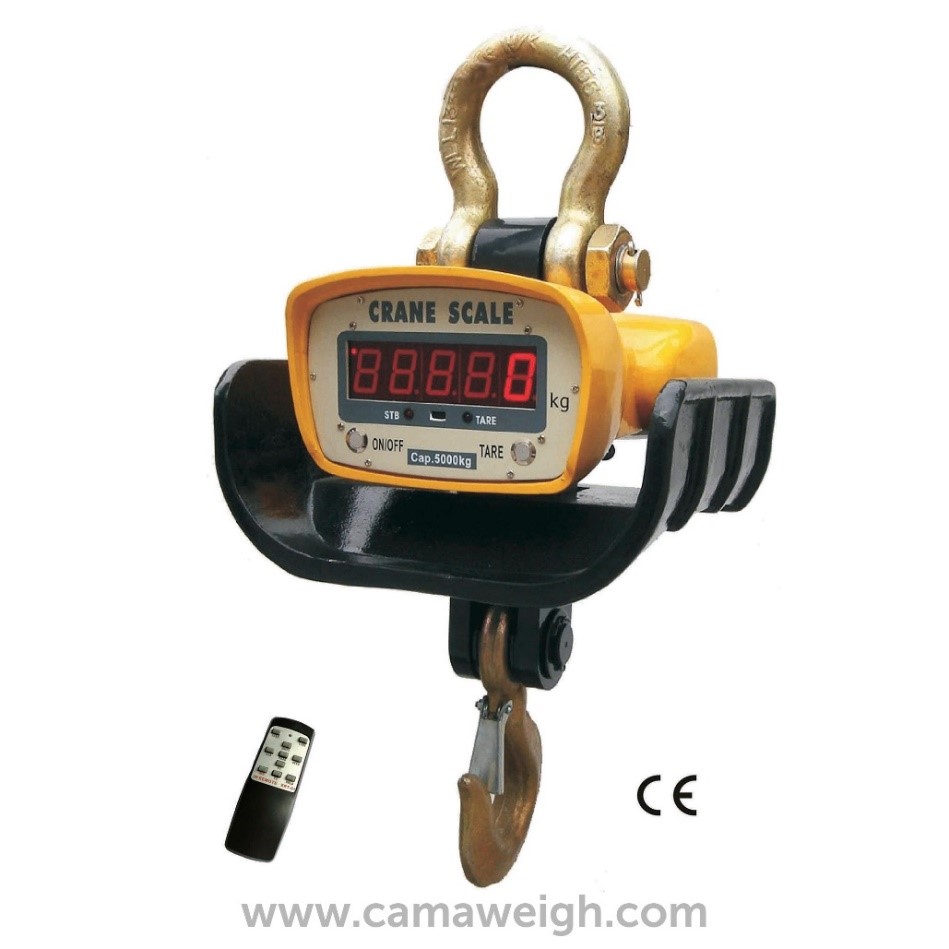 Digital crane Scale, or hanging scale, with remote included and weight capacity of 5t (5000 kg).
Crane Scale, also known as hanging scale, is an industrial weighing scale equipment with multiple uses. The most popular services of this equipment are on ships, planes, and trains to measure the load and force on the crane, and they are often used in the manufacturing and transport of freight industries.
There are various types of crane scales that Camaweigh offers: digital crane scales, heavy-duty crane scales, and digital mini crane scales. The difference between these three types of equipment depends on the application and requirement from the customer. Moreover, the price of a crane scale is determined by its feature and weight capacity.
Crane scale is often used in the process of transferring and loading crates and trailers into carrier boats. Crane scales are used as weighing scales for bulk loads.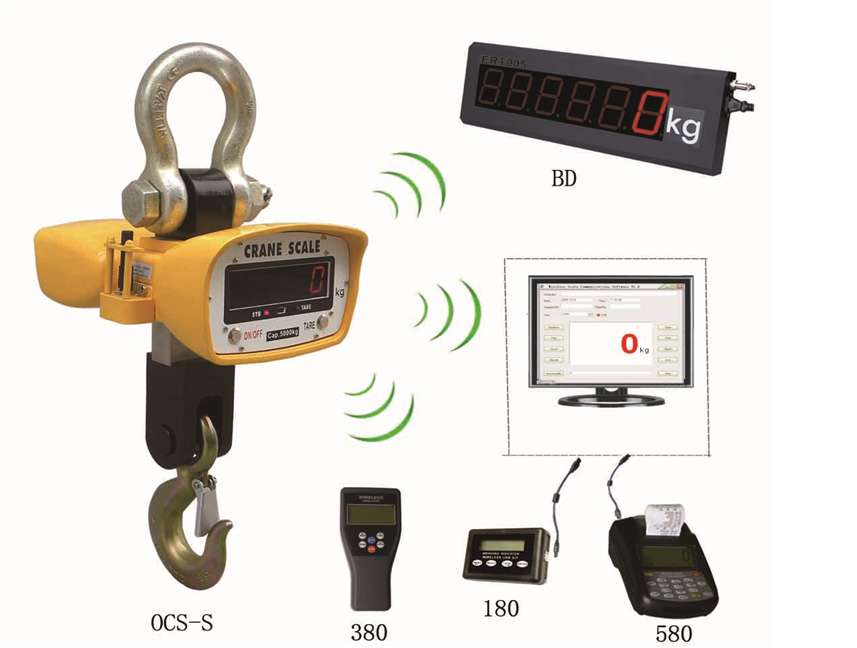 OCS-S Digital Crane Scale with a 5t (5000kg) weight capacity and includes a thermal printer and remote for a wireless system.
Crane Scale Features:
Battery life: last up to 50 hours of operation.
Maximum weight capacity offered: 50 tons.
Material: heavy-duty built, cast aluminum casings, and hardened steel for maximum protection and durability.
Extra features: digital display, built-in scale indicator, wirelessly connected to an external scale indicator.
Certified with OIML requirement for Class III.
Environment: efficient and flexible equipment to operate in different environmental conditions.
Crane Scale Uses:
Two types of crane scales: digital and analog.
Digital crane scales are preferable for industrial applications because of the various load cell and weight capacity provided.
Applied in any large-scale industrial activity, including weighting commercial containers and crates, steel alloy bars and any construction products, and off-loading cargo from ships.
To calculate the exact weight of heavy bulk loads in a commercial and industrial operation.
To increase a company's productivity by eliminating the need to transport bulk loads to a specific weigh station.
To reduce the possibility of capsize when loading items to boats and ships, it is critical to determine the correct dimensions of the overhead crane scale.
Crane Scale Types:
Camaweigh offers the following types of crane scales: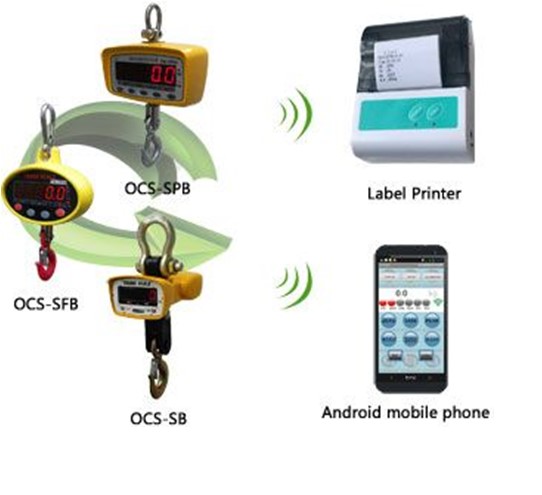 Different OCS-SPB, OCS-SFB, and OCS-SB Digital Crane Scale types with a label printer included and long-distance Bluetooth assistance for Android mobiles.
Which Countries Manufacture Crane Scales in Bulk?
The main producers of crane scales are China, Germany, India, and the United States.
Consumption of crane scale has increased dramatically across the world, especially in developing countries, because manufacturing and logistics industries need to reinforce productivity with new technology and equipment during international trade and e-commerce transactions.
Crane Scale Price
Regarding pricing of Industrial Weighing Scales, we put all of our energy into researching all brands and types of Crane Scales. Our goal is to find the equipment with the best specifications at the most affordable price. It is important that you find equipment that is reliable and not too costly. Here at Camaweigh, we pride ourselves on looking through every small detail of the equipment we sell.
Where to Buy Crane Scales?
To find various crane scale products, it is preferable to import them directly from the manufacturers for premium quality, certifications, competitive, and affordable prices.
We export worldwide and if you are looking to buy bulk quantities of weighing equipment, you can contact us for a FREE quotation today via email [email protected], or send us a message on WhatsApp for a fast response +86-131-2037-9271.
Contact us for Crane scale details and pricing on our website at camaweigh.com.