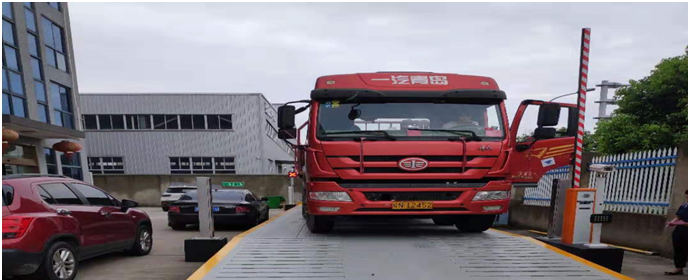 A weighbridge is a large set of scales that are used throughout the majority of industries throughout the world in which larger vehicles and machinery is measured. Weighing machines such as a weighbridge are predominantly usedwithin the transportation departments within businesses to weigh bulk items of considerable amounts such as trucks and larger vehicles carrying goods.
Weighbridges are normally mounted within a concrete surface to be driven over and are typically composed of modular section, placed together to span the desired length.
• View types of weighbridges in the market.
How Do Weighbridges Work?
For Business Application:
Regarding business transactions, the overall weight is dispersed into three sections consistent of Net Weight (weight remained when Tare Weight is subtracted from the Gross Weight), Tare Weight (weight of unloaded truck) and Gross Weight (weight of a loaded truck).
Compliance Use:
This is when a business is requiring their vehicles to be loaded to maximum capacity. Those capacities being measured on the axles of the weighbridge are compliant with the road regulations within the region of the products and trucks being transported. Regardless of whether a company is purchasing, selling, or recovering inventory, the information collated from a weighbridge such as a truck scale is crucial due to later being used for legal compliance, profit margins, quality control etc.
Weight and Scale Regulations
Furthermore it is vital that when a customer is purchasing a weighbridge, they are aware of scale and weight regulations within the regions in which they are trading in.
OIML
In many European and Asian countries, the International Organization of Legal
Metrology (OIML, www.oiml.org, headquartered in France) provides the standards
that measuring devices must meet for commercial applications. This includes
vehicle scales and their components, such as load cell. OIML regularly updates its
series of recommendations, guides and other reports and documents. Devices that comply with OIML specifications will carry an OIML classification. For vehicle scale components, such as the weighbridge and load cells, this will define tolerances for
their accuracy and capacity, which are verified by standardized testing. For example, OIML document R 60 outlines performance characteristics for load cells.
CWIA
China International Weighing Association. An official association by MC certificated China factories in scales and accessories. It's official member of OIML. The association has power to make weighing regulations & standards, and execute them in China.
MC
Manufacturer Certificate issued by China Market & Quality Administration Bureau for scales factory. It's to certify a factory having workshop, engineering, and technical ability to produce weighing apparatus and accessories including scales. Without this certificate, companies cannot produce scales and accessories legally, and its products will not be permitted to get into market.
There are steps required so that the purchasing company is able to have complete usability of their weighbridge. One method in which companies can accomplish this is by assembling a weighbridge team. The team should consist of individuals who specialize in strategic operations, computer systems and potentially finances. As well as, a supplier of weighbridges. It is advised that that customer get into contact with suppliers as early as possible as they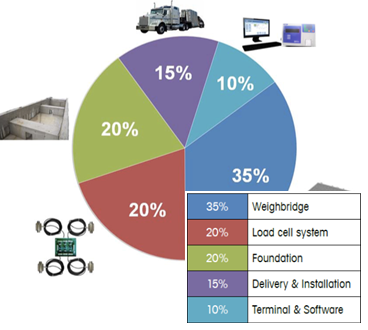 will be able to guide them in the right direction and give them the best advice regarding their decisions. The suppliers may also be willing to recommend expert professional as well be the installer of the weighbridge. There may also be a need to acquire a contractor to prepare and put in foundations for the weighbridge.
There are steps required so that the purchasing company is able to have complete usability of their weighbridge. One method in which companies can accomplish this is by assembling a weighbridge team. The team should consist of individuals who specialize in strategic operations, computer systems and potentially finances. As well as, a supplier of weighbridges. It is advised that that customer get into contact with suppliers as early as possible as they will be able to guide them in the right direction and give them the best advice regarding their decisions. The suppliers may also be willing to recommend expert professional as well be the installer of the weighbridge. There may also be a need to acquire a contractor to prepare and put in foundations for the weighbridge.
Components of a Weighbridge
Foundation
If a customer required a more permanent set up when purchasing their weighbridge, it is more likely that they will be required to lay foundation through excavating some ground. Allowing the weighbridge to then become level with the ground therefore allowing vehicles to drive onto and off of the scale installed. The weighbridge may also be installed above ground, having said that, there is still the requirement of installing a foundation.
Weighbridge
The weighbridge itself creates the driving force for the vehicles. As mentioned previously, the weighbridge is designed in modular sections and can be designed to a desired length. The modules are composed by a combination of steel alloys with steel tread plates as the main driving force. The following factors are crucial when a buyer is considering purchasing a weighbridge best suited to their purpose and demands.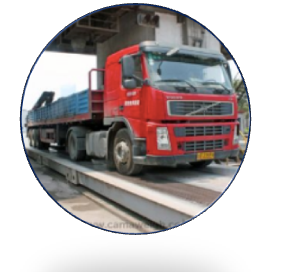 Load Cells
These are the censors that measure the weight of the scale. Load cells are now considered to be an integral structural component, essentially meaning that the weighbridge is primarily supported through the load cells alone load cells can come in a variation of shapes and sizes; that being a Bridge Type and a Column Type. Both types positioned at the edges of the modular sections of the weighbridge.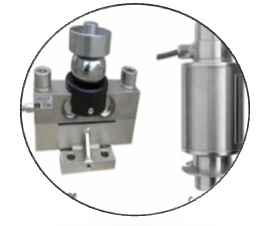 Indicator and Signal Cables
Also sometimes referred to as a terminal, the indicator is the control panel for the scale. It displays the weight value to the operator, and often serves as the connection point for other scale peripherals.The signal from the load cells must be transmitted to
the terminal. In most cases, this is done with signal cables.
Junction Box
Many scales require one or two junction boxes as connection points for the load cell cables. The junction boxes combine the signals from the load cells and eventually connect to the indicator with a single cable.
Weighing Software
Handwritten weight tickets have transitioned to printed forms via embedded micro printer or integrated printers. Scale software plays an increased role for sites large and small. Software can automate data capture, speeding up weighing times and reducing opportunities for errors.
Configuration
Weighbridges are available in various configurations however when proceeding to purchase ascale, look out for the 3 main categories;
i.
The Full-Length Vehicle Scale
; which has 6-10 load cells joined on a single platform. Uniquely designed to measure the whole weight of a vehicle promptly. These scales are the most effective for industries that charge for cargo by its weight, such as recyclers and cement transporters.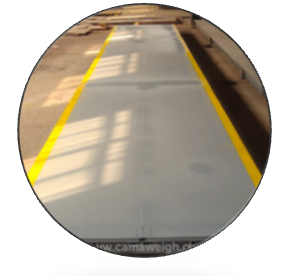 ii.
Single Axle Scale
; these scales however, are not approved for commercial traders especially the transporters who charge for cargo basing on its weight.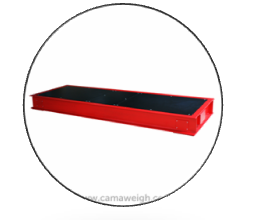 iii.
Multi Axle Vehicle Scale
; make it possible to get the aggregate vehicle weightcollected with individual axle weights for greater flexibility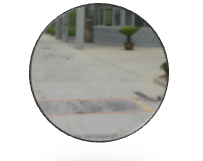 Scale Size
When purchasing a weighbridge, customers need to keep in mind that the size they require has to be able to accommodate the length of their largest vehicle. Though vehicle sizes vary throughout the world, it is smart for customers to consider the business's needs within the future and the willingness to purchase a scale that will be able to last an approximate of 15 years. Many scale manufacturers will offer standard sized weighbridges, but will also accept custom dimensions. If the customer is replacing a pre-existing scale and utilizing an existing foundation, they will need their new scale to fit those dimensions. In those cases, often a scale company representative will visit the site to take measurements or send them a questionnaire before the scale is manufactured.
Length
In applications in which customers need to weigh the entire truck, the weighbridge must be long enough to hold all of the wheels of the longest truck the customer plan to weigh. That usually means 18-24 m (60-80 ft.) long for tractor-semitrailers, and up to 30 m. (100 ft.) for double trailers. Regional/national/ provincial authorities typically regulate the overall maximum length of over-the-road tractor-trailers.
Width
Typical weighbridges average at 3-3.4 m. (10-11 ft.) in width. A wider scale can make it easier to maneuver the truck onto the scale. A recent trend has been for many customers to choose wider scales than was customary in the past.
| Features | Benefits for the Client |
| --- | --- |
| • Anisotropic structure made of U beams | • The weighbridge will be more robust to resist bending, torsion and lateral force. |
| • Automatic multi-heads welding the U beam and deck & bottom in the same time and in one time. | • The weighbridge has less strain inside and transduces stress more even, and get longer metal fatigue period. |
| • U-Beam, deck, and bottom are closed chamber through welding | • The weighbridge will be better at corrosion-proof to achieve longer lifespan, and free of maintenance. |
| • Seamless combining technical for weighbridge modules | • The connecting area is also stress point, so there will be no tail up, and load cell will get less influence from horizontal move. Accuracy getting better. |
| • The whole weighbridge got shot blasting in same time. | • It will minimize strain by welding, and shorten span time between shot blasting and coating. This will increase coating adhesive to enhance corrosion-proof ability. |
| • No window on weighbridge deck. United weighbridge structure. | • No damage and screw corrosion from windows while maintaining. |
| • The whole weighbridge got coating and baking treatment in same time. | • Coating will be more even and more adhesive. |
| • A 20ft container is 6 m long, but it's only have 5.8 m inside excluding doors, so we cut a 3 m * 18 m weighbridge into 6 pcs of 1.5 m x 5.72 m. Then a 20 ft. container can pack full set of 3 m * 18 m truck scale properly. | • Better for shipping by sea and saving freight: Easier for transportation and saving charges. |
Static vs. Weigh In Motion?
| | Axle Scale (WIM) | Weighbridge (Static Weighing) |
| --- | --- | --- |
| Weighbridge size | Width: 0.9 m/ 1.6 m/ 5.1m Length: 3.2m/ 3.5m/ 4.0m | Width: 3.0m/ 3.4m (4m / 4.5m)
Length: 7.0m/ 9m/ 10m/ 12m/ 16m/ 18m/ 22m (24m/ 30m)
 |
| Foundation Base: | Small and shallow pit | Big, deep pit, requires significant construction work |
| Accuracy | In-motion: 1% (5.1m axle scale) 2% (two axles), 5% (one axle) | Static: OIML C3 |
| Legal for Trade | No | Yes |
Weighbridge Deck – Steel or Concrete?
| | Steel Deck | Concrete Deck |
| --- | --- | --- |
| Installation Time | 1 Day | 30 days |
| Relocation | Easy | Very Hard |
| Workers and Machines | 1 pallet or crane and 1 worker | 4-5 workers and 1 concrete mixer |
| Foundation Base | Normal | Larger and deeper |
Pit Foundation vs. Pit less Foundation?
| | Pit less Foundation | Pit Foundation |
| --- | --- | --- |
| Drainage | No need, just requires some additional water pipes | Yes, requires full drainage system including a pump |
| Access (Maintenance) | Easy | Requires special maintenance holes to access load cells and junction box |
| Accuracy impact | Very few | Weather conditions such as rain may affect and influence load cell accuracy when they are in water |
| Safety | Normal | Require guard rail to protect weighbridge from unexpected loading |
| Clean availability | Easy | Hard to clean bottom side |
Axle Load
The axle load of a wheeled vehicle is the total weight felt by the roadway for all wheels connected to a given axle. Viewed another way, it is the fraction of total vehicle weight resting
on a given axle. It's very important to use axle load on weighbridge to protect the weighbridge and load cells to achieve a longer lifespan.

Truck axle groups are used to calculate compliance with the formula. Any two axles must comply with the results of the formula, but axle groups 1–5, 1–3, and 2–5 are most critical. This truck is not in violation of the formula.
W = the maximum weight in pounds that can be carried on a group of two or more axles to the nearest 500 pounds (230 kg).
1= spacing in feet between the outer axles of any two or more consecutive axles. N = number of axles being considered.
Accuracy
There are two accuracy concepts, calibration accuracy and display accuracy. The display accuracy is indicatory accuracy which shows weighing signals transferring from load cell. Calibration accuracy is trueness by ISO and OIML; it's a description of systematic error, i.e. trueness. OIML Accuracy Tolerance.
There are various accuracy specification levels defined by OIML: C3, C4, and C6 are seen in truck scales.
Most truck scale applications are C3. A very small percentage of truck scales are C6, which provides a stricter accuracy tolerance.
Portable weighbridges do not require the need for foundations (only flat solid ground) and can be easily relocated therefore making them easier to store and give the possibility to be rented, therefore producing additional incomes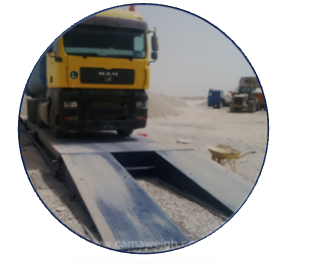 Unmanned Weighbridges
A large number of company sites are considering hardware that allows truck drivers to process their own weighing transactions. This capability can be ideal for scales that operate around the clock or that process repetitive transactions. With an unattended driver terminal, companies can potentially eliminate the
cost of building a scale house next to the
scale and employing an on-duty scale operator. Unattended terminals offer the following features:
Card/RFID reader for quickly identifying drivers/ vehicles

• Display for prompting drivers to enter data

• Keypad/keyboard or touch screen for entering data
• Ticket printer
Optional features include: 

• Wireless networking

• Voice intercom capability (standard or voice-over-IP)

• Camera systems for remote monitoring

Reliability of the Weighbridge
Before purchasing a weighbridge, it is advised to be on the lookout for those that shield load cells connection cables with a stainless steel braided protective cover. Additionally, probe forload cells systems that operate with agile disengagement rather than cables. Choosing such scales with such levels of technology will conserve both time and money in the long run.

You should consider whether you want a fixed weighbridge or a portable weighbridge.
Choose Service Providers for Maintenance and Calibration
Since a weighbridge is a sizeable investment, ensure making the best choice by investing in a reputable service and maintenance contractor that will ensure that your machine keeps operating perfectly. Sufficiently check for credentials of your service provider including referrals, and their qualifications and training.

It is best to opt for a weighbridge manufacturer that will offer a comprehensive job, emergency servicing and is able to accomplish thorough maintenance checkups, as well asappropriate scale warranty duration.
Accessibility to the Load Cells
These are sensors within the weighing scale that assist in measuring the weight. Load cells vary in sizes, shapes and capacities as well as being available in two types; analogue and digital cells. Both types using the same strain of gauge technology.

The weighbridges applying canister cells position said cell at a significantly lower level within the weighbridge, almost close to the ground. However stainless steel cells with an IP69K rating offer a unique mode of protection against water and dirt that may develop under the weighbridge.
Check its Indicator and Signal Cables
For a weighing machine such as the weighbridge, the indicators are located within the control panel. The scale's indicators should be in perfect shape; able to show the weight value to the operator machine with no difficulty. The indicator also serves as the connection angle for other scales. The signal coming from the load cells passes through the terminal with the help of the signal cables.
The Size of Weighbridge
When choosing the weighbridge, attempt to choose one with a deck designed to accommodate the weight and length of any truck size even the largest truck. Most truck scale manufacturers offer standard-sized weighbridges, but are able to accommodate customers requiring a custom dimensions to meet their expectations.
Seeking Expert Advice
When investing in a weighbridge, it is best considered to seek advice from experienced personnel. Most suppliers obtain employees trained to offer a site visit and assist potential customers to establish the very best weighing solution for their environment.

When choosing a weighbridge, one crucial decision is whether to go for a "pit" or "surface mounted" bridge. Furthermore, there are differing models of weighing machines such as electronic, digital pit type, rail, and portable weighbridge. Moreover a portable weighbridge can easily be transported from one site/location to the next. In several cases, before deciding on which type of the weighbridge, the solution will be set not solely by usage and budget, but also the physical conditions of the location.

For more information on the type of weighbridge suitable for you, contact us or WhatsApp (+86-13120379271) if you have any inquiries.